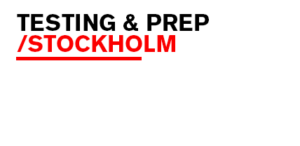 VENHÄLSAN – THE GAY MENS HEALTH CLINIC
The Gay Mens Health Clinic at Södersjukhuset (Stockholm South General Hospital) is specifically intended for men who have sex with men and can provide you with a full check-up. The clinic is open daytime for people who live with HIV, and an afternoon clinic for all men who have sex with men. Read more about Venhälsan at their website.
Venhälsan's staff has been trained by us in issues regarding sex work.
Phone: 08-616 25 00
Address: Sjukhusbacken 14 at Södersjukhuset.
SEXPERTERNA / TESTPOINT
Drop in HIV and syphilis tests outside the ordinary health care. Free of charge and anonymous. We welcome men who have sex with men, the trans and sexwork communities (all genders) and migrants. If you do not fit these target groups, please check 1177.se for the closest HIV/STI-testing clinic.
More info about Testpoint here
Address: Alsnögatan 7
116 41 Stockholm
Phone: (during opening hours) +46 73-572 22 38.
E-mail: testpoint@stockholm.rfsl.se